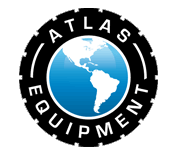 Atlas® Platinum PWBT310 Heavy-Duty Wheel Balancer
Introducing the new Atlas Platinum PWBT310 Heavy-Duty Wheel Balancer. The PWBT310 is the newest addition to the Atlas Platinum brand of professional workshop equipment. The PWBT310 includes advanced features such as an automatic gauge that enables auto-input of wheel distance and diameter while automatically displaying the relative balancing program required (clip-on or stick-on weights) meaning no errors will occur due to manual weight type selection. This Heavy-Duty Balancer also includes:
A 17" Monitor that displays information clear to the operator.
A 40mm shaft that can handle both car and truck wheels.
A pneumatic lift to assist technicians in lifting wheel to balancing shaft.

The PWBT310 also features the latest programs for unbalance corrections such as:


ALU S: Unlimited "stick-on weight" positions
SPLIT: hidden weight mode (behind the spokes)
Multi-operator program: 4 different operators
Minimization of residual static unbalance.


The Atlas Platinum PWBT310 Heavy-Duty wheel balancer is a must have solution for any Heavy-Duty shop that services wheels and tires.