Atlas® Atlas® Alignment Lift Combo - 12AWFSL-N Commercial Alignment Scissor Lift and (2) RJ-6 Rolling Jacks

Product Code ATTD-12AWFSL-B
The Atlas® 12AWFSL alignment scissor lift is a 12,000 lb. capacity surface mounted alignment lift that has a "wheels free" jacking system built into each runway.
Heavy Duty Construction and super-
balanced lift for wheel alignment
Can be surfaced
mounted or flush mounted
Very precise platform leveling
accuracy
Emergency manual pump for
lowering
Overload valve included
Lowering speed control valve
included
Extra Long Slip Plates allow for aligning of wheelbases from 172" to 86"
6 month motor/electric, 1 year
hydraulic, and 2 year structural
warranty
Mounting Hardware Included
Shipping Dimensions: (2 boxes)
198" x 53" x 29 1/2"
MyToolGuy.com is pleased to introduce our new Atlas® 12AWFSL 12,000 lb. alignment scissor lift. This lift has been in production for several years and hundreds of these lifts have been sold throughout the world except for the North America.

Our Asian partner developed this lift in a joint venture with one of the most prestigious Italian lift manufacturers. The combination of the Italian engineering and design coupled with the low cost of the Asian labor has resulted in an alignment lift that is equal to or better than similar big name lift brands costing two and three times as much money.


The Atlas® alignment lift has a lifting height of over seven feet so that it may be floor mounted or recessed if the customer decides on a flush mount installation. The full frame under the scissor lift provides for maximum stability.

All Atlas® alignment scissor lifts can be surface mounted or flush mounted. Each lift comes with approach ramps for the floor mounted application or an optional set of ramps if the customer decides to flush mount the lift. Check the technical specifications to better understand how the extra high lifting height allows the Atlas® 12K alignment scissor to be flush mounted and still offer plenty of room under the runways to properly access the underside of the vehicle.

The extra long 53" long approach ramps make it easy to load low riding vehicles.

Once a vehicle is positioned on the Atlas® alignment scissor lift, the optional Atlas® RJ-6 rolling jack can lift the vehicle off of the runways to perform wheel service. The air powered hydraulic Atlas® RJ-6 rolling jack has telescoping arms that extend over the runways to access lift points. These jacks have screw out extensions or optional stack on truck adapters.

Welded rails on the inside of the runways are standard on all lifts, allowing the customer the option of incorporating the Atlas® RJ-6 rolling jack system on his Atlas® alignment scissor lift.

Quality workmanship, ease of operation, straight forward installation instructions, a durable powder coat finish and the lowest prices in the Industry makes the Atlas® 12AWFSL 12,000 alignment scissor lift the perfect choice for the demanding and discriminating shop owner.


Optional Atlas® RJ-6 Rolling Jack

Product Code ATTD-RJ-6
Sale Price $995
The Atlas® RJ-6000 rolling jack is the perfect accessory for either the Atlas® 12 AWFSL or Atlas® 12 ASL alignment racks.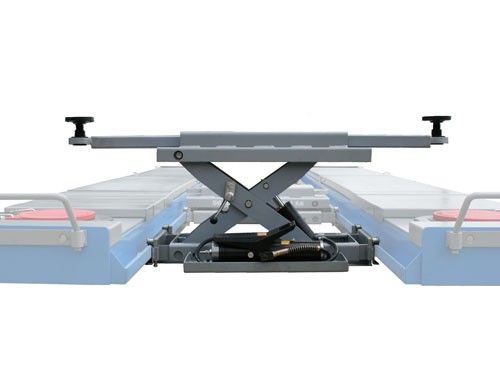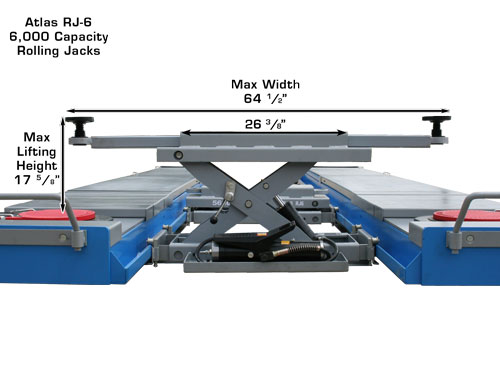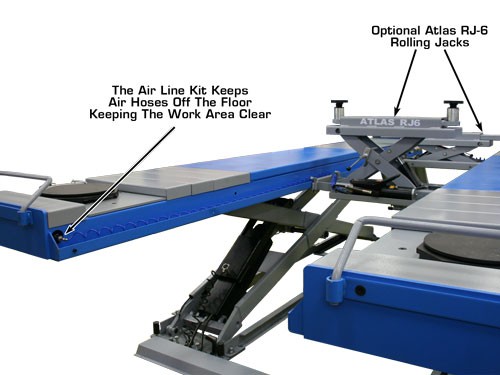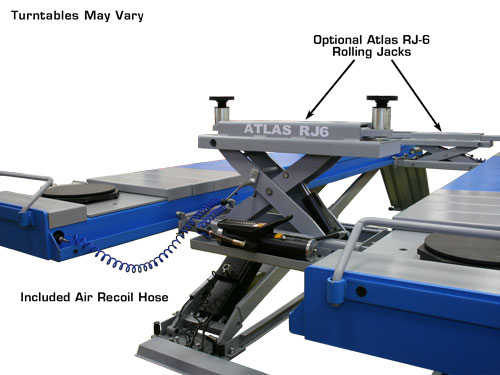 Atlas® 12AWFSL 12,000 LB Alignment Scissor Lift Specifications
Lifting Capacity
12,000 LB
Lifting Height
84 1/4" (7' 1/4")
"Wheels Free" in ramp jack system Height
17" (1' 5")
Overall Width
86 3/8" (7' 2 3/8")
Overall Length with Approach Ramps
250" (20' 10")
Overall Length without Approach Ramps
197" (16' 5")
Approach Ramp Length
53" (4' 5")
4-Wheel Alignment Wheelbase

Max. 168 in.
Min. 90 in.

2-Wheel Alignment Wheelbase
Max. 172 in.
Min. 86 in.
Runway Width
23 3/4" (1' 11 3/4")
Lowered Height
11 1/2"
Locking Positions
19
Width Between Runways
39"
Motor/Electrical Requirement
220 volt single (1) phase. A 30 amp breaker is recommended.
Oil Requirement
3.5 Gallons AW32/AW46
Shipping Weight
5500 lbs.