Atlas® 14KOF-EXT Garage Pro Open Front 4 Post Alignment Lift (COMMERCIAL GRADE, EXTRA LONG)
Turntables included
(COMMERCIAL GRADE, EXTRA LONG)
14,000 lb. Capacity
Four Post Open Front Alignment Lift
Extra Wide Runways
Integrated Rear Slip-Plates
Includes Alignment Turntables
Recessed Areas In the Runways for Turntables
Lock Ladder Column Design
Air Operated Lock Release
Mounting Hardware Included
2 Year Structural, 1 Year Hydraulic Warranty
Shipping Weight: 3,500 lbs.
Atlas® 14KOF-EXT Specifications
Capacity
14,000 LB.
Lifting Height
69 7/8" (5' 9 7/8")
Clearance Under Runways
61 1/2" (5' 1 1/2")
Overall Width
138" (11' 6")
Overall Length with Approach Ramps
280" (23' 4")
Overall Length without Approach Ramps
239" (19' 11")
Length of Approach Ramps
49 1/4" (4' 1 1/4")
4-Wheel Alignment Wheelbase

Maximum 162" (13' 6")
Minimum 81" (6' 9")
2-Wheel Alignment Wheelbase

Maximum 187" (15' 7")
Minimum 81" (6' 9")
Runway Length
223" (18' 7")
Width Between Runway Rails
39 1/8" (3' 3 1/8")
Outside Runway to Outside Runway
82 1/2" (6' 10 1/2")
Runway Width
19 3/4"
Thickness of Runway
8 3/8"
Width Between Runways
42 5/8" (3' 6 5/8")
Height of Columns
Rear: 89" (7' 5")
Front: 99 3/4" (8' 3 3/4")
Column Dimension
Rear: 6" X 9 1/2"
Front: 7 1/2" X 11"
Base of Column
Rear: 12 1/2" X 14 1/4"
Front: 17 3/4" X 21 3/4"
Clearance Between Columns
Rear: 113 7/8" (9' 5 7/8")
Front: 110 1/8" (9' 2 1/8")
Outside Column to Outside Column
Rear: 125 3/4" (10' 5 3/4")
Front: 125 1/8" (10' 5 1/8")
Oil Requirement
3-5 Gallons AW32/AW46
Shipping Weight:
3,500 lbs
Optional Bridge Jacks: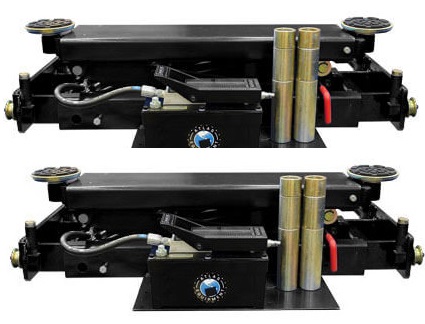 Atlas® RJ-8000 Specifications
Maximum Width
66 1/2"
Minimum Width
35"
Distance Between Runway Capability
34 1/2"-55"
Minimum Lifting Height
10"
Maximum Lifting Height (With Both Adapters)
30"
Double Screw-up Adapter Pad
1 3/4" - 4 1/2"
Short Adapter
3"
Tall Adapter
6"
Maximum Capacity
8,000 LB.
Recommended Operating Pressure (PSI)
70-115 PSI
Shipping Weight
390 lbs.
The Atlas® RJ-8000 is a heavy duty rolling jack designed to lift and support 8,000 LB. The commercial grade RJ-8000 rolling jack can be used to raise the front or rear section of a vehicle; allowing the operator of a four post above ground lift to perform wheel and brake service. Most commercial shops buy two of these hydraulic rolling jacks, so that the entire vehicle can be supported in the air at the same time. The Atlas® RJ-8000 was specifically designed to work with the Atlas® PX-16A alignment scissor lift.

The Atlas® RJ-8000 rolling jack has telescoping arms that can be extended over the runways of the four post lift. The lift pads at the end of these arms can be positioned under the LIFTING POINTS that are located over the runways of the four post lift. The Atlas® RJ-8000 rolling bridge is equipped with expandable rail supports which adjust to fit many different brands of four post above ground lifts. These supports have a unique roller system that allows the rolling hydraulic jack to glide easily under the entire length of the vehicle. The large heavy steel wheels allow the rolling jack to be positioned under the correct lifting points in a matter of seconds.

The Atlas® RJ-8000 comes standard with a set of screw up adapters which increases the lifting height of the lift pads. These adapters will allow the Atlas® RJ-8000 rolling hydraulic jack to raise most pick up and larger trucks that sit higher than the average passenger car.

The Atlas® RJ-8000 is equipped with an Atlas® Air/Hydraulic Pump. The air/hydraulic pump requires compressed air (air compressor) to work properly.

Important: The Atlas® RJ-8000 is designed and engineered to operate on "delivered" air pressure of between 70-115 PSI. If you exceed 115 PSI, you may damage your jack. For more information on the recommended operating air pressure of the Atlas® RJ-8000,

The Atlas® RJ-8000 rolling hydraulic jack features two solid locking positions that are used when the vehicle is to be suspended above the runways. When the locks of the Atlas® RJ-8000 are engaged, the pressure exerted on the hydraulic system from the weight of the vehicle is eliminated. (These locks act much like a pair of jack stands after you lift a vehicle off the ground with a service jack).